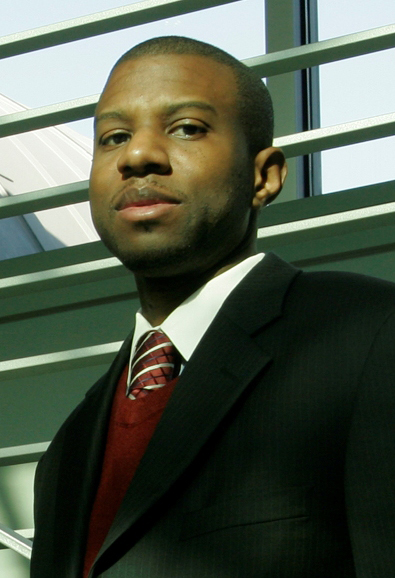 Don't miss Ivory Toldson's Breaking, "Barriers Part 2" symposium – Feb. 25
Ivory Toldson, associate professor of counseling psychology at Howard University in Washington D.C., will be the featured speaker at "Breaking Barriers Part 2: Reducing Gang Violence, Improving, Security and Creating a Culture of Learning in Schools."
St. Louis symposium to feature Dr. Ivory Toldson, nationally acclaimed author, educator and researcher
ST. LOUIS, MO – For far too many school-age black males, under-achievement, delinquency and even prison is a foregone conclusion made, in many cases, by the school system, the public and even African-American boys themselves. But Dr. Ivory Toldson, 38, a leading researcher and author, says that doesn't have to be, especially when black and white data is considered. Toldson will be the featured speaker at Educational Equity Consultants (EEC) free symposium: "Breaking Barriers Part 2: Plotting the Path Away From Juvenile Detention and Towards Academic Success for School-age African American Males." The conference will be held from 8:00 a.m. to 12:30 p.m. Saturday, Feb. 25 at Saint Louis University in DuBourg Hall, Room 157 (Refectory Hall).
Also part of EEC's symposium will be a panel of four outstanding St. Louis community advocates: Niwar C. Davis, Superintendent of the Eleventh Circuit Family Court; Charles Adams, University City Police Chief; Redditt Hudson, Racial Justice Associate with the American Civil Liberties Union of Eastern Missouri; and Leon Henderson, President of Cardinal Ritter College Preparatory School. Sylvester Brown, St. Louis-based writer and former St. Louis Post-Dispatch columnist, will be the moderator.
The symposium is free, but space is limited. Priority will be given to educators, community workers/advocates, parents and students who reply online at ivory-toldson-breaking-barriers-2-.eventbrite.com or by calling (314) 997-6500. The deadline for reservations is Friday, Feb. 17. Free parking is available in the Laclede Street Garage, corner of Laclede and Grand, or street parking on Lindell Avenue. EEC is sponsoring the symposium in collaboration with Saint Louis University, Teach for America and St. Louis Leadership Cypher.Toldson is an a ssociate professor at Howard University, senior research analyst for the Congressional Black Caucus Foundation and editor-in-chief of The Journal of Negro Education, the country's oldest black continuous publication. Toldson has received national acclaim for his work on addressing issues facing African-American males. He is the author of the "Breaking Barriers" series, which analyzes academic success indicators from national surveys that looked at almost 10,000 black male pupils from schools across the country. "Breaking Barriers 2," released March 2011, offers solutions that will assist policymakers, educators, school advocates, families and others in enabling African-American males to have greater success in the classroom and afterward. EEC helped bring Toldson to St. Louis in 2010 to talk about his first "Breaking Barriers" series.
According to Toldson, research shows that black male success and achievement is at an all time high. "Few people know that the black male college population is also larger today than at any point in history," Toldson said in a previous interview. "In addition, the rate increase in college enrollment has expanded for black males over the last 10 years, while the rate increase in incarceration for black males has decreased."
Panel member, Davis, works with juveniles in the criminal system. He has worked in various positions in the Juvenile Justice Division as Deputy Juvenile Officer. For the past 10 years, Davis has been the superintendent of the Juvenile Justice Center. Davis is also a member of the Missouri Juvenile Justice Association and American Corrections Association and serves on the Disproportionate Minority Confinement Committee of the St. Charles County Family Court.
Adams, also a panel member, began his career with the University City Police Department in 1974. He was appointed Chief of Police in December 2005. Chief Adams is active in both the St. Louis and Missouri Chief of Police Associations. He currently serves on the Board of Managers of St. Louis County and Municipal Police Academy and is a past vice president of the St. Louis Area Police Chief's Association. Adams is currently one of the St. Louis Regional Vice-Presidents with the Missouri Chief of Police Association and previously worked on their Diversity in Law Enforcement committee.
The third panelist is Hudson. Among other things, Hudson is an advocate for criminal justice reform and works to address civil liberties issues within the criminal justice system. As a former officer of the St. Louis Metropolitan Police Department, Hudson is aware of equipping families and communities with effective resources needed for an improved quality of life. Hudson has been active in coalitions formed to address issues related to affirmative action, equal treatment under the law, and racial profiling. Hudson has also worked to address violence in the schools and communities and to create better opportunities for youth.
Addressing setbacks and challenges that face African-American males is important. But it is of equal value to concentrate on and learn from high achieving black males, said Anthony Neal, president/CEO of Educational Equity Consultants.
Neal, one of the founders of EEC, started the company to level the playing field and give all children an equal access to opportunities for high achievement. In addition, the company seeks to eliminate race as an indicator for intelligence and success. EEC has four Just programs that help schools and organizations eliminate oppressive attitudes, behaviors and policies. In the area of schools, EEC works with about 2,000 district leaders and training facilities to discern attitudes about race and racism and how it might affect students' abilities to achieve. Educators learn to recognize behaviors and policies that negatively impact how students see themselves and their potential to succeed. Moreover, participants learn how to change or eliminate negative behaviors and build positive strategies for schools and school districts.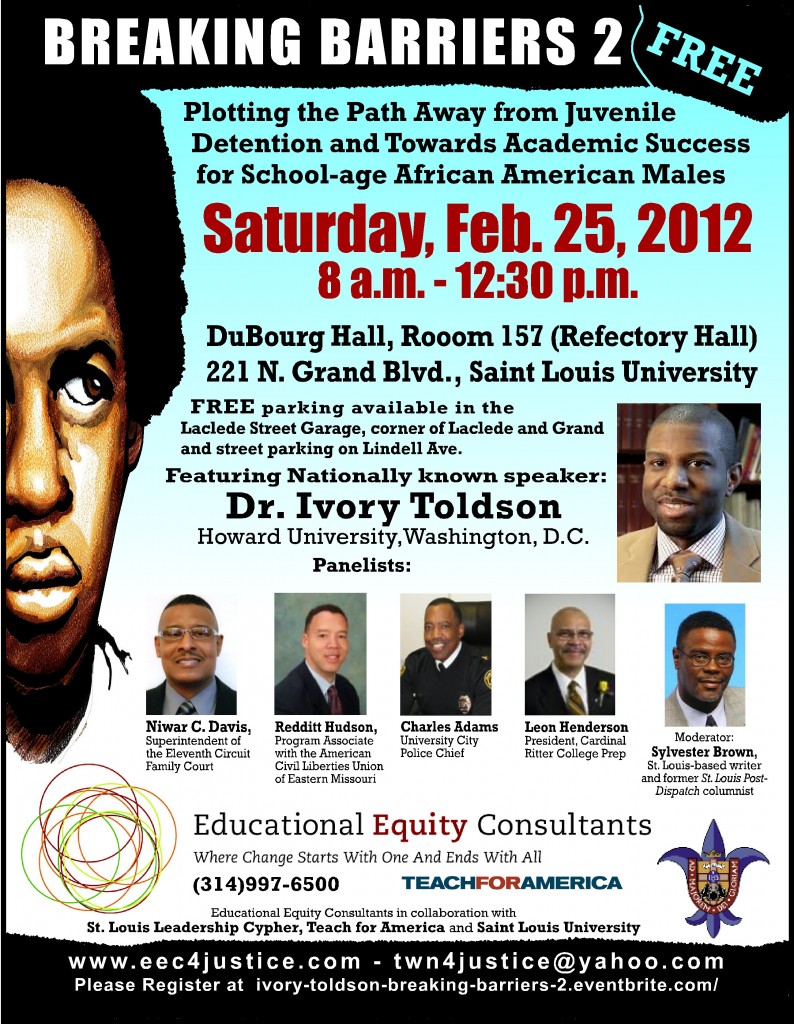 Comments
comments
Event Details
When:

Saturday, February 25, 2012 from 8:00 AM to 12:30 PM

Price:$

Free to the public (600 seats going quickly!)

Location:

St Louis University - 221 N. Grand Blvd. St Louis, MO 63103